More Gujarati! Awesome alphabet che!
In the name of God, compassionate & merciful
بِسْمِ
اللهِ
الرَّحْمنِ
الرَّحِيمِ
| Peace be with you
السلام
عليكم
Today's lesson: The really swirly Gujarati Alphabet: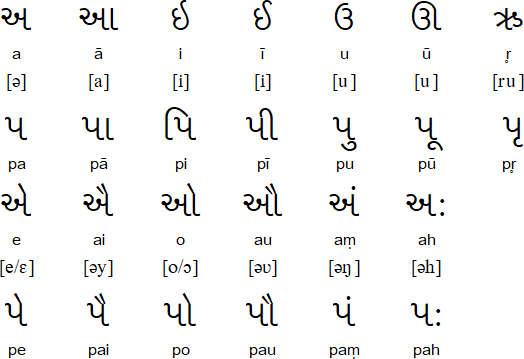 Consonants
Very similar to Hindi, I think. I found this Gujarati text (below) on the internet which resonates an Islamic concept of brotherhood. That first line 'All men are born free and equal' was
the
French Revolution principle which fought against the monarchist rule. It's also a Turkish saying which I drew years ago for a client. I studied Jacque Rousseau and the French Rev. a couple of years ago. Fantastic learning about the birth of democracy... Anyway, back to that internet finding:
In Gujarati

Transliteration (phonetic)
Pratiṣṭhā anē adikhārōnī drṣṭinē sarvē mānavō janmathī svatantra anē samān hōy chē. Tēmanāmāṁ vicārśakti anē antaḥkaraṇ hōy chē anē tēmaṇē paraspar bandhutvanī vartavuṁ jōiē.
Translation
All human beings are born free and equal in dignity and rights. They are endowed with reason and conscience and should act towards one another in a spirit of brotherhood.

(Article 1 of the Universal Declaration of Human Rights)
Learning languages is a great skill. I'm hoping to at least be able to converse in Guji with a couple of friends. Make them stunned!
'
Oye chokri, maaru'n naam Zaufishan che, hun gujaratee sheeki, tame kem chho?'
- 'Yo, girl, my name is Zaufishan, I'm learning Gujarati, how are you?'