November issue of Emel OUT NOW
In November's issue..
- Magnetism of the Ka'ba
- Alfred Noble & leaving a legacy, the not-as-noble-as-you-think editorial.
- Cars & fashion & weddings & herbal remedies.
'Magnestism', Ahmed Mater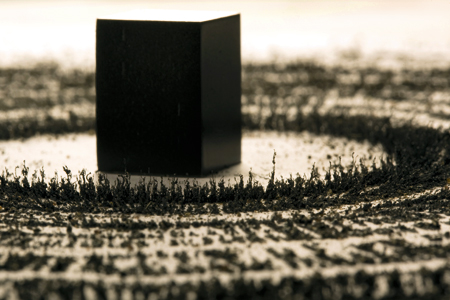 "The Magnestism exhibition uses physics, magnets, and iron fillings. We see the strength of magnetic attraction, which forms the movement of the tawaf around the Ka'ba. Personally, this is the spiritual state that I find myself in when I myself am making the tawaf."
'Equal but Different', Khaver Idrees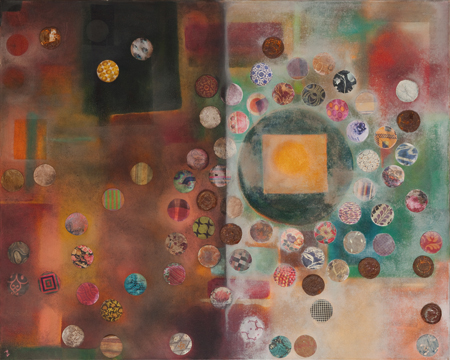 "Beneath the complex surface and layers of time, the simplicity of the cube in Hajj is what inspired me; the fixed nature of the square as a focus and the fluid, continuous circle of tawaf is mesmerising. Just as the electrons in an atom are attracted to the nucleus, so too are we drawn to the Absolute. The piece was particularly personal as I used items I found during my own experience of Hajj in the art work."
Pearls of Wisdom: "Be happy for this moment. This moment is your life." ~ Omar Khayyum.


Editorial: Living a Legacy | by Sarah Joseph, editor


"Alfred Nobel is most famed for the Nobel Peace prize created in his name. But did you know that Alfred Nobel is also the inventor of dynamite? I didn't. Apparently one of his key motivations behind the creation of the prize was the publicaion of his obituary - prematurely, as he was still alive. The headline boldly stated, "The merchant of death is dead." Alfred did not want to be remember thus, and so created the prize. His name is now associated with peace, not death and destruction... Will our children remember us as patient, loving and caring? Or will they remember the rushing, the discipline and the hours we weren't there? Will our parents think of us as attentive and a source of joy, or will they remember the burdens that we placed on them? Will our neighbours comment on how hospitable we were and how we gave them a sense of security? Or will they not even notice our passing or worse, be grateful that we moved on?"
Link Loves from emel:
Lucy & me (well, my arm)
Practice what you preach: by Lucy-Bushill Matthews
"[...] As Muslims we are not always aware of the contact responsibility we have to demonstrate Islam consitently, to ensure that our outward actions are in harmony with our inner faith... If you are friendly, your neighbours may assume - or hope - that all Muslims are like this. If you prove yourself to be an effective and trustworthy manager, your work colleagues will more likely be happy to work with Muslims. Conversely, if you turn up late [...] people may think Muslims are always late. [...] If your stick to a Muslim clique at the school gate and ignore other parents, those parents may assume Muslims are an insular bunch. [...] And if you choose to wear overtly Muslim dress such as hijab but swear loudly at someone who annoys you, it will be hard for onlookers to be convinced that a hijab is an outward manifestation of an inner modesty..."
Ze laifzytyle feechure, oo'know, on fashoun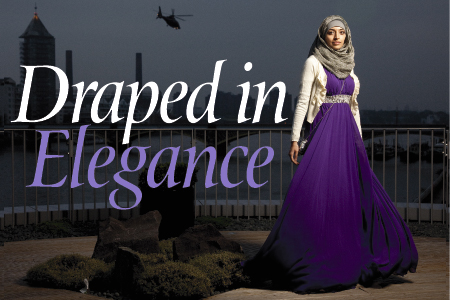 Draped in Elegance
- 'Eid style, model: Hina Khwaja
Purple pearl work dress, £300 Pia michi (wholesale only); Silver scarf – stylists own; Cream cardigan, £35 from Louche at Joy; Diamante bracelet, £12; Sequinned clutch, £22 both at Next.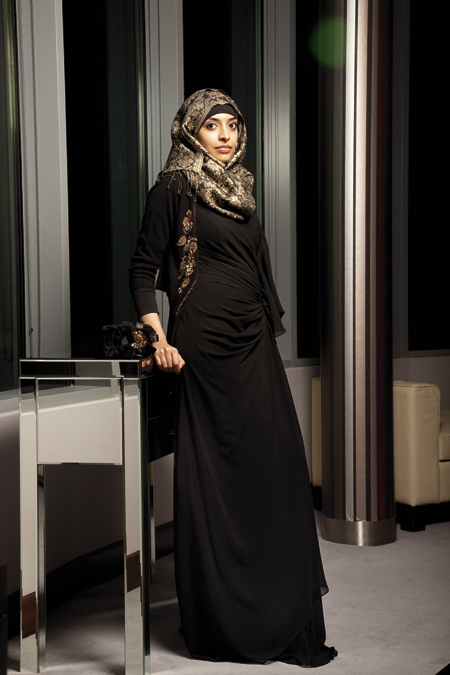 BIRTHDAY GIFT 1
: Black chiffon drape dress, £330 at Pia michi; Black beaded cardigan, £39 from Louche at Joy; Black velvet clutch, £25; Beaded bracelets, £15 from
Runway
; Black and gold scarf, £16, all at Next.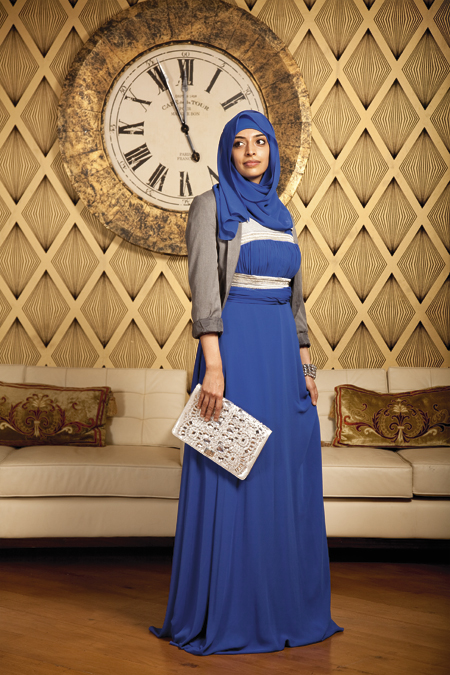 Blue diamond detail dress (with scarf attached), £330 at Pia michi; Grey blazer, £15 at
H&M
; Silver diamond clutch, £30; Diamante bracelets, £12 at Next.
I like the whole magazine and learn things from it, but the above stayed in my memory. Note the highlighted
birth-day gift idea
... Dear family, something along those lines would be gratefully accepted. *wide-grin*